Shihan Poetry Video Assignment
About
This will be my 1st book of Poetry and 5th album(notice the disparity)...a long time ago I was told "Thank God for Spoken Word, cause people dont read.". At the time, i laughed it off but, the more i thought about it the more it saddened me to realize reading is what got me into poetry and a book without a book is like a vocalist with no songs to sing...Over the past 19 years, I've been putting together this collection of poetry...my last album was released in 2005 and I've been touring like crazy since and haven't really allowed myself the time to put in the work this project needed, but, life is constantly shuffling priorities and Deciphering Gibberish is now at the forefront...I'm grateful for all the support at my live shows over the years but, the one thing I've come to terms with is my artistry deserves the opportunity to be read and this book allows for that...my album will be contain all new material and is considered by me to be the Soundtrack to the book...I really hope you enjoy it.
Risks and challenges
With any artistic release there are risks, the most obvious one is people not being aware that there is a project that's been released. Another is quality control. Poets have a reputation of selling you just about anything in the name of Poetry, but, I want this project to represent the potential we all as artists have to produce quality material everytime asked. And an album with replay value and a book with weight worth holding on to. With your help, we can do that...your funds put Deciphering Gibberish on the road to success. Proper scheduling is a top priority I'd like to make sure the project has the time to breath and the time to make sure everything is the way it's supposed to be. I will keep a schedule of bi-weekly updates to keep you in the know of where the project stands. If you have any questions, please ask...thanks you again for your support and I'm looking forward to completing this project.
Learn about accountability on Kickstarter
As a writer who fell in love with poetry years ago, it was quite easy to notice that not until Russell Simmon's Def Poetry Jam started on HBO did society truly look at poetry as more than the classics of Edgar Allan Poe, TS Eliot, etc… Def Poetry Jam introduced the world to poets who had been around for awhile but the style of poetry was not recognized until then. I had the chance to sit down with one of the Def Poets, Shihan and I also had the chance to talk with the Def Poet, Poetri.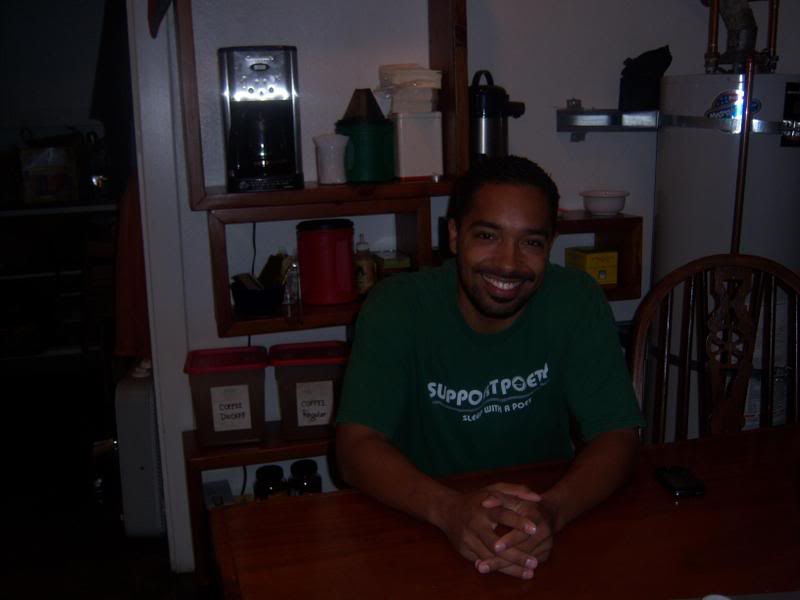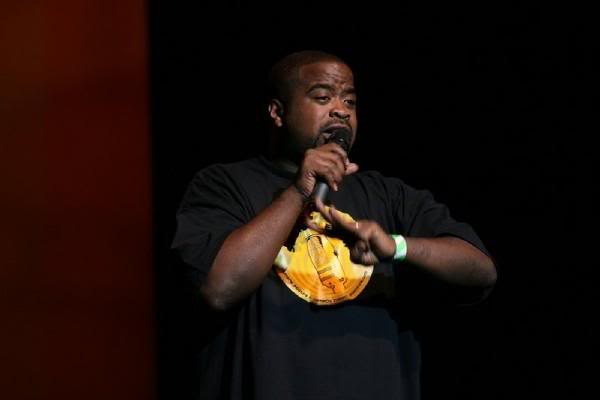 Melody: What was is it like the first time you were on Russell Simmon's Def Poetry Jam on HBO?
Shihan: It was exciting! There were a lot of nerves and at first I was going to do all serious stuff but IN-Q and Poetri were both yelling from the audience, "Do the 'Love' poem!" and so I winded up doing that. That winded up being the right choice.
Poetri: It was incredible! It was the first time poetry was put on a major scale and I was really proud because poetry is like my child.
Melody: What was it like winning a Tony Award for Def Poetry Jam?
Poetri: We got a Tony Award for poetry which had never been done. No one has ever won a Tony Award for writing and performing their own poetry so I was proud of poetry in general and excited for the future of poetry.
Melody: How do you think poetry has changed over the years personally and in society?
Shihan: Personally I'm more mature now so the writing is so more mature. When Def Poetry came out and the Slam started getting some notoriety I saw the influx of a lot of spoken word artists and people who just wrote to get scores and be on TV. There's a lot of that now, people who do not really have an attachment to what they are saying, more just how cool they can make stuff sound.
Melody: So what do you have to say to those who call themselves poets but do it for the act not the passion of poetry?
Shihan: You know what I'm totally against it. When people come for the testimony of people's stories and when they believe in something and find out it's bull, it's kind of a hard thing to continue to believe in when there is that inconsistency. Although I do think that in certain forums and stages, there is a place for that because some people tell really good stories even though the story behind it isn't real. Sometimes people just need the story.
Melody: How old were you when you started writing poetry and who or what influenced you to start writing?
Shihan: I started writing when I was in junior high school. I had a language arts teacher who gave me an assignment to read the NY Times everyday. The words I didn't know, I stopped before I continue reading, looked them up to comprehend what I was reading and then he started giving me books to read. The first book he gave me was an autobiography of Malcolm X. From there I started writing. Then he took me to one of those city wide talent shows and I wound up reading a poem.
Poetri: When I was little kid instead of watching television or going outside to play, I would go in my room and write. I never read poetry when I was a little kid so I did not have influences then, I just went in my room and wrote out my frustrations. That led me to write more. As far as influences, of course the Lord Savior Jesus Christ, Denzel Washington – I know it's crazy, and Michael Jackson.
Melody: Poetri, can you explain "What if Jesus Was A Poet?"
Poetri: That was just putting Jesus in today's society. I actually have a series of those, If Jesus Was A Poet, If Jesus Was A Basketball Player, If Jesus Was A Comedian. I just thought of one last night, If Jesus Was Running For President. Some people think of Jesus over 20 thousand years ago but he is present in our lives today, so I wanted to write about him today's world.
Melody: How do your spiritual beliefs affect your writing? Is there anything you would not write about or perform?
Poetri: I write about everything that goes on with my life. I wouldn't write about drinking beer, because I don't drink beer. With some poets, why they don't write about certain things…they are not all writing from their heart. They may just be writing to please the crowd, but if you are a poet, you are a poet. Write about what's going on in your life and what you are feeling.
Melody: You have written, produced and arranged over 150 commercials for radio and television, how did you get into producing?
Poetri: My brother had been working for a major advertising company so he asked me if I wanted to write a poem for a commercial and that is how I started off.
Melody: Shihan, my favorites are "Love Like" and "Sick & Tired" but do you have a topic that you always seem to come back to writing about?
Shihan: Now it's a lot of family oriented pieces. "Love Like" at the time that's where I was in my life. The love that I have now, I still have those elements of that but it's more mature now. As much as I love the piece, it's very simple, here's a list of things that I'd like. With "Sick & Tired" I only wrote that in response to something and I only memorized it for the purpose of Def Poetry and that was it.
Melody: Through spoken word, the variations of tone in poetry is made known so people understand where you are coming from. But without it, is there any certain poem you think really sticks out as far as having multiple meanings without using spoken word?
Shihan: Yeah, in the sense of writing something abstract that people don't get. Also, if I looked at "Love Like" on paper, it's not really this super dope piece. It's kind of very, very basic. Seeing it performed changed what it was and how it was accepted. There are some serious pieces that I think make the art form of spoken word so important. When you are reading poetry, it's always in your own voice so spoken word gives the opportunity to hear the emotion that's attached to the voice that wrote it in the first place. It brings so much more to the table.
Melody: What do you do about writer's block, not being inspired?
Shihan: That's hard. I force myself to write because writing is an exercise and you have to keep doing it to make something happen. Inspiration comes to the hand doing this (waves hand in writing motion) not doing nothing. So it's really important to at least keep trying, even if it's shit, it's still writing and getting yourself prepped.
Melody: What do you have planned for the future?
Shihan: I'm going to teach but I'm still going to write. I want to write a novel, a screenplay and I'm writing a play so there's a lot in the future it's just about making time for it, putting it together, and executing. There's a fear that goes along with it I guess that kind of stalls you. I like Stephen King a lot and he had a quote, "Fear is the enemy of execution."
Poetri: Besides being a mega star (laughs), my wife is pregnant with our second child so I'm trying to keep a stable environment for my family and also do some acting. I'm in an upcoming movie with Jim Carrey called Yes, Man.
Melody: What's a night like at Da Poetry Lounge and a night like at Spoken Funk?
Poetri: Da poetry lounge has been going on for 10 years with hardly any promotion. It's been word of mouth, the best kind of promotion. People are really excited when they wait in line and as they are waiting it's building up anticipation for when they get inside. Every night is open mic so you don't know what you are going to get. It's exciting to know what the next person is going to say.
At Spoken Funk it is all clean comedy and poetry which is something that is not going on anywhere right now. It's refreshing for everybody to come where they can bring their mother, brother, anybody they want to bring and still laugh and have a great time without hearing negative words. A lot of people think that you can't have a good time when it is clean comedy but Spoken Funk is breaking that barrier down.
Da Poetry Lounge are Tuesdays from 9pm – Midnight at GreenWay Court Theater 544 N. Fairfax Blvd Los Angeles, CA and Spoken Funk are Sundays at 9pm at the The MBar Bar at 1253 N. Vine Street in Hollywood, Ca.